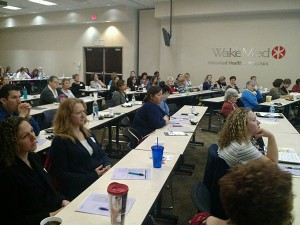 Medical Advocates for Healthy Air exhibited at the recent Asthma Made Easy conference hosted by the Wake County Asthma Coalition, which featured a presentation on how asthma educators could use Motivational Interviewing, a therapy technique for helping people overcome addiction, to improve asthma patient compliance with medical directives.
Motivational Interviewing taps into the intrinsic motivations people have to change behavior. A non-judgmental and non-confrontational technique, it explores the person's goals and reasons for ambivalence in working to achieve those goals. The strategy recognizes that knowledge alone is not enough to make a person change their behavior. Rather, it seeks to help people think about their behavior in terms of how it matches with their values and ultimately to consider what might be gained through change. The practice involves engaging clients and eliciting change talk, asking questions such as "How would you like things to be different?" or "How does your behavior interfere with things that you would like to do?"
Given that we often talk about our use of fossil fuels as an addiction, it's interesting to think about how environmental advocates could use the strategies of motivational interviewing to elicit change. The key may be to ask instead of tell. For example, when addressing how traffic congestion makes it take longer to get to work, we could ask, "How much time do you think it should take to get to work? What are some things you could do to achieve that commute time?" When addressing the harmful effects of burning coal, we could ask, "What do you want your rivers to be like? How does burning coal to produce electricity interfere with the health of those rivers?"
The biggest challenge in using this technique might be to change the advocates' behavior. We have become so accustomed to confronting energy companies and policy-makers, it would take a substantial effort to try a different approach. If it could win converts, however, it might be worth it.