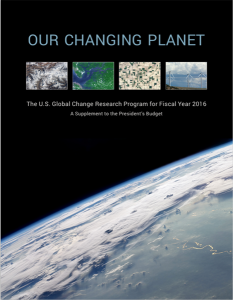 How do you make plans and decisions when everything you do is affected, often in exponential shifts, and you really don't know for sure what is going to happen? That's the challenge Environmental Protection Agency (EPA) scientist Chris Weaver's colleagues face at the US Global Climate Change Program.
The Program coordinates and integrates global change research across 13 government agencies to ensure that it most effectively and efficiently serves our country and the world. Its website features an interactive National Climate Assessment, allowing users to explore how climate change affects them, and the Program publishes an annual report, Our Changing Planet, with overviews of research and actionable science.
Weaver, who recently spoke at UNC's Gillings School of Public Health in Chapel Hill, noted that the localized nature of the effects of climate change requires a shift from studying problems on a global scale to studying problems as contextualized, place-based phenomena. While meteorologists, physicists, chemists and biologists still play important roles, looking at context requires a variety of perspectives, including those of social scientists. In addition to measuring sea-level rise and shifting seasons, planning for climate change demands about socio-economic and socio-ecological information. Questions like "What drives these changes?" and "What is at risk?" are important to keep in mind as we simultaneously do research and move to action.
This is particularly relevant for medical and health professionals, who must become more aware of how members in vulnerable communities may protect themselves from climate change-driven health effects like asthma, heat-related illness, vector-borne disease, and stress.